My name is Peter James Clarkson and I have been the Minister of Christchurch since July 2019. It is my joy and privilege to be the Minister of this Church. I also have pastoral responsibility for three small United Reformed Churches in the Forest of Dean.
I was called by God to the preaching ministry at the age of 17. Before training for the pastoral ministry, I worked in retail management for 2 years. My theological and ministerial training took place in Manchester at Luther King House and at Manchester University between 1985-89. I was student minister at a Church on the Wirral for one year and did a spell of further training at the Theological College of the West Indies between 1989-90.
Between 1990 – 1997 I worked first for Scripture Union Bible Ministries throughout northern England, and then at an Independent Evangelical Methodist Church in Worsley near Manchester as their full time Pastor.
In 1997 I was ordained into the ministry of the United Reformed Church at a single pastorate in Leeds where I served for 22 years. During my time in Leeds, I also served as Minister and Mission Enabler to several other Leeds and Harrogate based Churches. I was privileged to be part of the Ecumenical Chaplaincy Team for the Universities in Leeds from 2012-2016, serving staff and students. I finally left Leeds in summer 2019 to take up a new and exciting challenge in Gloucestershire.
My main gifts lie in the areas of expository preaching, teaching, worship leading, pastoral care and counselling, and evangelism alongside the healing ministry. At Christchurch I am part of a gifted and motivated Leadership Team which we call our Church Council. Although much of the leadership work here is shared and delegated according to gifting, I oversee all our Pastoral Care, Worship and Renewal initiatives.
There is an evolving vision at Christchurch – for without vision, the people perish. When we are in a position to place an official new vision-statement approved by our Church meeting on this website, we will do so. Below are some of my personal thoughts on our direction of travel as a Church – but we are at the beginning of a journey, seeking to be led by the Spirit.
I have been married to Julia since 1989, and I have two grown up sons. To relax, I enjoy watching lots of sport, walking, cycling, gardening and reading. I am a keen supporter of Manchester United. Please don't let that put you off. God bless you and I look forward to meeting you.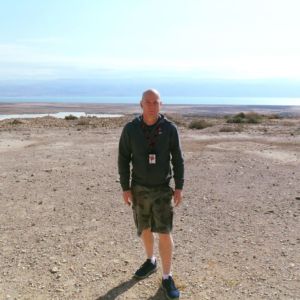 So where do I think we are heading as a Church? In our small intimate Shalom Prayer Room situated within Christchurch we have a framed picture with the words; "Where there is no vision, the people perish." These challenging words come from Proverbs.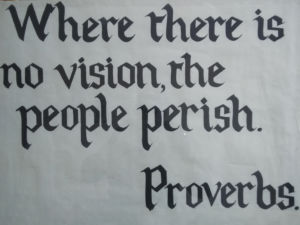 Our Church mission statement is simple; to know Christ and make him known.
A mission statement is helpful, but it is not a vision. During the most recent ministerial vacancy, the membership at Christchurch prayerfully identified 5 areas of Church life that needed to be prioritised and strengthened. Christchurch also recognised that it needed a vision for growth.
Further strengthen our welcome, hospitality and varied worship.
Further strengthen our priority and vision for pastoral care.
Develop and grow our work with children and families.
Raise the importance of Christian teaching and discipleship.
Seek new ways to compassionately reach out to our local community
After my arrival in July 2019, I introduced some thinking on 10 areas of Church life that would need attention and development in order to stimulate health and growth within our fellowship and witness. These were:
Commitment to biblical authority.
Commitment to prayer.
Commitment to expectant and inspiring worship.
Commitment to effective leadership aimed at mission not maintenance.
Openness to change and renewal through the Holy Spirit.
Mobilising our membership and using all our God-given gifts.
Releasing our resources and encouraging generous giving.
Commitment to internal unity, care and love within our fellowship.
Commitment to relevant forms of compassionate outreach and service.
Commitment to continuous evangelism.
During 2020 and beyond, we aim to make full use of a tool to encourage growth. This tool is LYCIG (Leading Your Church into Growth).      https://www.leadingyourchurchintogrowth.org.uk/
LYCIG seeks to develop vision for growth in 3 key areas:
Growth in numbers.
Growth in spiritual maturity.
Growth in service.
 LYCIG with its helpful emphasis on: 
Prayer
Presence evangelism
Proclamation evangelism
Persuasion evangelism
should enable us grow a vision for mission and growth which could include:
Adopting a leadership structure whereby our Church Council prioritises growth.
Encouraging inspiring worship which is bible centred and open to the Spirit's renewal.
Developing specific new and relevant ways to serve our community and city.
Building upon our warm welcome, hospitality and pastoral care.
Establishing a growing ministry to families and children.
This following LYCIG prayer strengthens our aspirations and seeks God's guidance and resources:
God of Mission
Who alone brings growth to your Church,
Send your Holy Spirit to give
Vision to our planning,
Wisdom to our actions,
And power to our witness.
Help our Church to grow in numbers,
In spiritual commitment to you,
And in service to our local community,
Through Jesus Christ our Lord.
Amen.
(for an update on our Vision, please visit the Vision page on the website)
With Joshua, we ask a question of God, "What then will you do for your own great name?"  (Joshua 7:9b)
With the Psalmist we pray:
May the favour of the Lord our God rest upon us; establish the work of our hands for us – yes, establish the work of our hands.  (Psalm 90:17) Not to us, O Lord, not to us but to your name be the glory, because of your love and faithfulness. (Psalm 115:1)
Revd Peter J Clarkson:    May 2020